Welcome to Kelli Jaunsen's Support Pages
Join our efforts, We can Make a Difference!

Up date 02/05/2007
============================================================================
Hi Everyone,

Kelli received a new heart and liver on Thursday Feb. 1 at Cedars-Sinai in Los Angeles after being on the waiting list for over a year. She now has to deal with the arduous recovery process. There is a whole lot going on and I have precious little time and need to get back to the hospital. It will be several days before I can reply to emails and give out more details & updates..

The transplant surgery lasted over 13 hours...first the heart and then the liver. Do to her delicate condition it was difficult, but the surgeons at Cedars are the best in the world and got it done. She won't be out of the woods for a while and is at the Cedars-Sinai, state-of-the-art, Saperstein Cardiac Surgery Intensive Care Unit, 6S46. Please send only cards... things like flowers are not allowed for transplant patients.

Kelli has displayed amazing courage and a wonderful attitude for such a long time while dealing with all the pain and 121 paracentesis procedures....We are terribly proud of her. She is a very special young lady!

Thanks to all for all the prayers and positive thoughts...

Robert Jaunsen
http://www.eccoblue.org/
============================================================================================
Up date 12/03/05


R Jaunsen wrote:

Hi Everyone...

Wonderful news!! Kelli is now officially on the Cedars-Sinai heart and liver transplant lists. Yesterday, she spent time
there for more blood labs (11 vials) and to have her questions answered by the Tx Medical Director, Dr. Czer and the
Tx coordinator, Brenda Kearney (see picture). The surgery will take a minimum of 14 hours, due to Kelli's prior
surgeries and other physiological reasons. Kelli told the doctor to "get plenty of sleep" before they started the
operation. Afterward, she will be on at least nine different drugs for awhile and will have twelve biopsies done the first
year. If there are any problems with her antibodies beforehand, they will fix that with gamma globulin and steroids.
Now, everytime the cell phone rings we're gonna jump, wondering if it's that special call.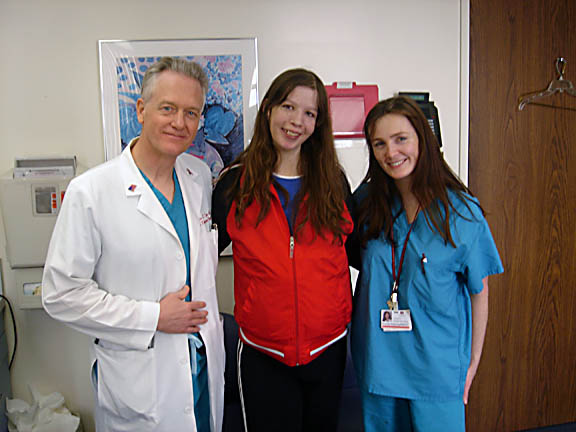 Last Monday, Kelli had 13 vials of blood drawn at Eisenhower for Cedars. As she was leaving, former President
Gerald Ford came to have his blood drawn by Lorraine, the same person that does Kelli, and I was talking to the
secret service agents outside the room. I introduced her to them and mentioned her need for a heart-liver transplant.
After that they took Kelli in to meet President Ford while he still had the needle in his arm and he gave her his
blessings. After we got home, Kelli said we left her jacket there so I called Lorraine to keep it and I'd pick it up the
next morning. When I went to get it, Lorraine told me that Ford was looking for Kelli when he was finished, but we
had already gone home. Darn it! Anyway, it was a really nice moment (and sort of a history lesson) for Kelli, even
though originally she had no idea who President Ford was, coming from another generation and all. He's 92 years old,
I think.

Lastly, Rob McMillan from KESQ (ABC-Fox) did another wonderful story update on Kelli about her getting on the
transplant list. Kelli was sick in bed during the interview so they had to use her crotchety, old dad to talk about it.
Ugh! They used a lot of shots from their previous stories and put together a beautifully done piece in time for
Thanksgiving. It's really amazing how they put stories together so well.


On Monday, the 5th, Kelli goes to Eisenhower for her 63rd paracentesis procedure.

As always, thanks to you guys for all your prayers and positive vibrations on Kelli's behalf. Her new life is just around
the corner.

God bless,
Robert

===============================================================================================


Up date 07/26/04
Special Announcement:

An offer to pay for Kelli's transplant surgeries has been made by someone who wishes to remain completely anonymous. This means that one of the major expenses—the actual transplant surgeries—will be covered. Now, the Eccoblue Survival Fund should be able to cover all other expenses, such as housing near the hospital, etc. All that remains will be the post-operative care, which I am told can be more costly over time than the surgeries, due to biopsies and anti-rejection drugs. We are working hard to get the insurance issues worked out and hoping that this, at least, will be covered.

With all the grassroots donation efforts, such as the Celebrity eBay Auction, Kelli's future seems much more secure. There have been hundreds of donations made by many caring people and I wish I could somehow personally thank everyone individually. There have been so many emails coming in wishing Kelli well that I hardly have the time to read and reply to them all. I had to make a template and send it out to as many people as possible, but even that has become a time-consuming task. Still, I want everyone to know how grateful Kelli and her family is for all the help and prayers on her behalf.

Many heartfelt thanks for your help. The outpouring of support to help Kelli survive is something that restores one's faith in humanity. The words friendship and caring take on a new meaning.

Many times, I have watched her open her eyes, after a surgery, struggling to move under a maze of tubes and wires, wanting desperately to be held and comforted. A tear would always trickle out of the corner of her eye...then she would suddenly hit you with that fantastic smile of hers. Once again, I felt her desire to live and all seemed well in the world.

Several times, during her young life, she almost slipped away. Her spirit wandered out into the unknown, trying to touch the hand of God. The power of prayer always brought her back to a new destiny and a new struggle. I believe this will be her last and final struggle.

Sorry, I'm getting carried away. My heart thanks you for your caring and support. My gratitude will become the memory of my soul. Knowing that wonderful people like you are in this world, sharing it with Eccoblue, gives an emotional feeling that sort of wells up inside, making it quite impossible to not become misty-eyed. Sometimes, thank you isn't enough. God bless.

Robert Jaunsen
A Note from Moldy Marvin: Our on going effort has raised $ 25,000.00 so far and we will still need to pay for pre-operation testing, some of which are covered by Kelli's current insurance. UCLA Medical Center still needs to complete its testing before Kelli's name can be put on the donor list. Once she is on the list, Kelli and her parents will make a temporary move to be within 30 min. from the hospital.
There is no way of telling how long it will be before Kelli receives donor organs.
Patients are matched to organs based on a number of factors, including blood and tissue type, medical urgency, time on the waiting list and geographical location.
After Kelli gets her transplant, her family also will have to pay for post-operative cars, including anti-rejection drugs, (not covered by insurance) which can cost up to $ 20,000.00 per month. Therefore your donations will still be accepted and greatly appreciated.
If you are note familiar with Kelli's case please read the information below and feel free to follow the links provided.
We want to thank all of you for your much needed support, there seems to be light at the end of the tunnel.
God Bless you all,
Moldy
Up date 07/18/04
Click on this Link to Check Out E-bay Auctions Being Held For Kelli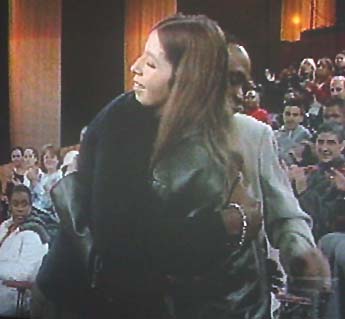 Kelli Jaunsen getting a big hug from Wayne Brady
==================================================================================
There is a girl by the name of Kelli Jaunsen (aka Eccoblue) who lives in Palm Desert, CA who is going to die unless she gets a much needed heart and liver transplant. Her Insurance has refused to cover the needed expense (due to the fact she has 2 failing organs) so her family must raise the money for the operation. Close to 1 Million dollars.
Her donor will come once Kelli is listed and a hospital is found that is willing to do the surgery, unfortunately someone has to die (brain-dead) in order to be a donor. This is something that takes place when a fatal accident happens and when Kelli's name comes up next on the list. Kelli has gotten some pretty good press but what she really needs is a group of people that can help and some nation wide if not world wide attention to help search for the resources to save her life.
Just recently (02/26/04) Kelli appeared on the Wayne Brady Show. Wayne was great and he has pledged all of the proceeds from his next Las Vegas performance. During the show JC Penny stepped up to the plate and is donating $ 10,000.00 to help with Kelli's operation. But this is only a start and a lot more needs to be done for Kelli's quest for recovery.
Kelli is an incredible artist and photographer and she loves music. So it's only fitting that that maybe you all might want join our efforts and help her out. You can find out more about Kelli, her story and her art, along with the folks that support her by visiting the links below.
Please Check our Events and Fund Raising pages for Updated information....

We have an on line support group for Kelli on yahoo groups.com If you would like to volunteer or if your interested in participating here is a link to the join page. http://health.groups.yahoo.com/group/eccoblue/join
This is what we're looking for.
Writers: We need some folks with good writing skills to help put together some good letters and media that can be e-mailed and sent via snail mail.
Artist: We need art donations for a possible auction on e-bay or other means we are looking for a gallery or two that might be able to help out..

Bands: We are hoping that maybe some bands might be able to arrange some fund raising events or even pass the hat at their shows.
Car Clubs and Community Organizations:
Maybe some of you folks in car clubs could put together some cruize in's and do a raffle or something like that. Maybe some of you community groups could put together a car wash or something creative like a bake sale.
Web Links: For those that have web sites, you can help by putting a link from your site to Kelli's site. For those that do we will be willing to put a link back to your web site in exchange as an affiliate found in the links page of this site. Sorry adult entertainment (porn) sites will not be considered.
Use this Banner if you like

The most important thing Kelli needs is folks to put their heads together and maybe volunteer a little of their time by doing any number of things; sending e-mails, contacting hospitals and charity organizations. Even the smallest concept or a contact could end up making a big difference.
If anyone has and questions or if you can help please contact us by going to our contact page.
Thanx fer yer time,
Tha Moldy One

This Page Last Up Date02/28/04


Copyright © 2004 @utomated Entertainment All Rights Reserved Hosted by Webmeister "Moldy Marvin"